30 rep circuit! This will get your heart bumping and sweat flowing.
Read below for full instructions!
WHAT YOU'LL NEED:
-A Timer
-Water bottle
-Towel
-Accountability – Grab a Buddy
WARM UP:
5 Minutes of Light Cardio
10 Hurdlers Each Way
60 Seconds Jump Rope
10 Butt Kicks
20 Side Lunges
10 Leg Swings Each side
WORKOUT:
After the warm up, perform this circuit and repeat 5 times with 90 second rest between each circuit.
30 Speed Skaters
30 Single Leg Hip Hinges
30 Jumping Split Jumps
30 Air Squats
30 Hip Bridges
Speed Skaters:
Single Leg Hip Hinges:
Jumping Split Squats: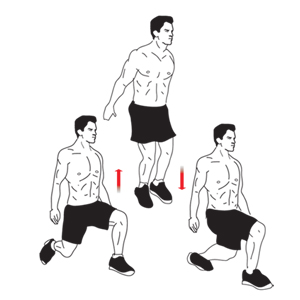 Wall Sits:
Hip Bridges:
Now, let's do this!
MAKE SURE TO COOL DOWN AND STRETCH!
DISCLAIMER: Please consult your doctor and be sure you are capable of the movements before attempting.
For emails sent to you directly, every Sunday, subscribe below.